The youngster stormed to second place in race three in his Campos Racing-run Tatuus-Abarth. Previously, Martí also finished fifth in race 1. Øgaard secures double points-paying finishes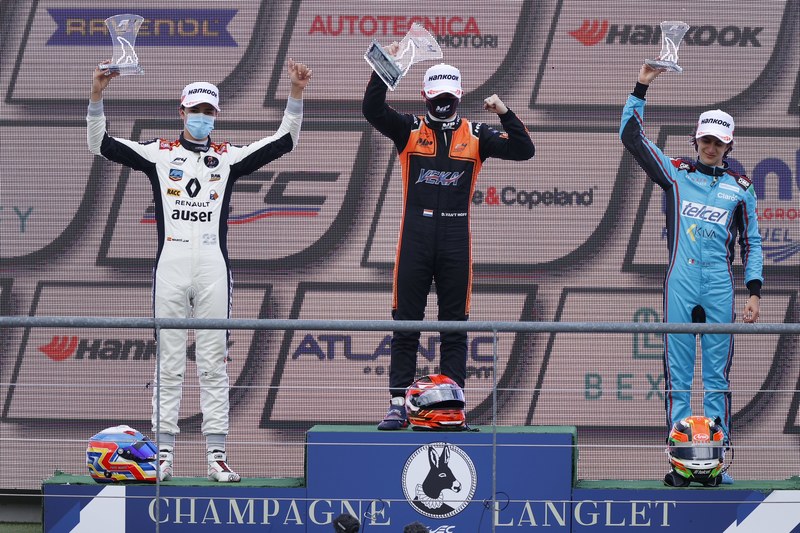 Spaniard Pepe Martí has made an amazing debut in the Spanish Formula 4 Championship with Campos Racing. Martí stepped onto the podium in second place after starting from fourth on the starting grid in race three, which took place this afternoon replacing race two. The latter finally will take place tomorrow due to last-minute timetable adjustments.
On Thursday, Martí and his teammates Sebastian Øgaard, Alex García and Oleksandr Partyshev completed two free practice sessions across the Ardennes forest at Spa-Francorchamps. Both Martí and García made it into the top-ten in FP1, which took place in dry conditions, with rain coming for the second session. Martí delivered an amazing lap to finish second-fastest lap time in the timesheets with Øgaard right behind in third.
Later in qualifying, Campos Racing drivers followed the same positive path. In Q1, Martí clocked a 6th-fastest lap time of 2m24.723s with Mexican García also making into the top-ten with ninth place setting a best lap of 2m25.115s. Øgaard qualified in 14th place with Partyshev further adrift in 24th. Just a few minutes later in Q2, Martí was another pole-position contender and finally posted a best lap of 2m24.107s, a mere half-a-second off the pole, to qualify fourth. Danish Øgaard set to start from 11th place and Ukrainian Partyshev qualified 21st-quickest. Unfortunately García couldn't set a flying lap in Q2.
Race 1 saw Martí making a lightning start and moved up to fourth. Shortly after, the safety car was deployed as several cars crashed out on the first lap. Despite the Spanish driver dropped to sixth at the restart, with no less than eight cars fighting for podium, his final charge rewarded him with a fifth place at the end. Øgaard and García also ran in the top-ten. The Dane finally came in ninth place and Mexican García just missed the points at the end by finishing eleventh. Partyshev came in 20th place.
In Race 3, as we mentioned above, Martí's result came after making another brilliant start and kept putting race leader Dilano Van't Hoff under pressure. The Dutchman never had a gap bigger than eight tenths and Martí crossed the finish line in his slipstream. Øgaard finished eighth this time and Partyshev also improved his previous result to finish in 17th place. Unfortunately, García failed to finish as another driver crashed into his Campos Racing car with just one lap to go.
Martí now sits second in the drivers' classification on 28 points with Øgaard in ninth place and six points to his name.
Race 2, which will be streamed live on YouTube, will take place tomorrow at 10.00 (CET). Martí will lead Campos Racing's assault once again from seventh on the starting grid.
---