The Danish driver took advantage of a crazy last lap and moved up to third. Martí took the checkered flag in sixth place securing another haul of points for the championship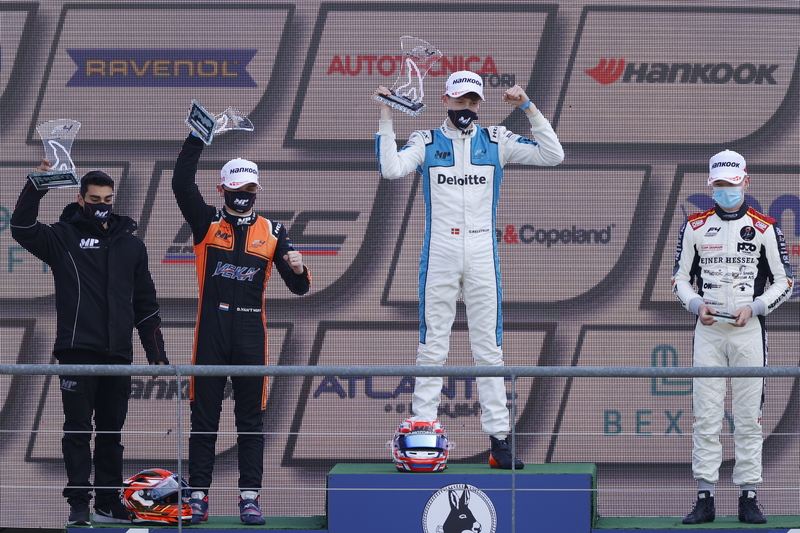 Campos Racing's F4 Spain Championship curtain-raiser event came to an end in style at Spa-Francorchamps with Sebastian Øgaard bringing another podium home for the Spanish-based team. Campos Racing made a fantastic start to the 2021 F4 Spain Championship season with two podium finishes over the course of this weekend at Spa-Francorchamps.
Pepe Martí, who finished yesterday second in Race 3, lined up seventh on the starting grid today with Øgaard just a few spots adrift. When the lights went out, Martí made another sensational start and moved up to third behind Dilano Van't Hoff and Santiago Ramos. The Spaniard still gained another place after overtaking Ramos as the Mexican driver ran wide. Similarly, Øgaard's first lap was rather brilliant and was running in fifth when the safety car came out following a couple of incidents involving several cars.
At the restart, Martí moved past Van't Hoff for the lead but the Dutchman and Georg Kelstrup overtook him on the Kemmel straight on the following lap. Another safety car was deployed in the closing moments of Race 2 but it headed into the pit lane before the last lap. Martí tried an overtaking maneuver on Van't Hoff but ran slightly wide at Les Combes and dropped to sixth. Øgaard inherited third place and crossed the finish line securing his first podium finish in the series. Martí finished in sixth but scoring valuable championship points. Mexican Alex García, who started from the back of the grid, took the checkered flag in 16th place. Ukrainian Oleksandr Partyshev was forced to retire on lap four.
Martí still sits second in the drivers' standings on 32 points. Øgaard is sixth on 16 points.
The second round of the 2021 season will take place at Circuito de Navarra in Los Arcos on 29-30 May.
---