Thai driver Inthraphuvasak is the first announcement of Campos Racing for the new series at the wheel of one of its Tatuus-Alfa Romeo cars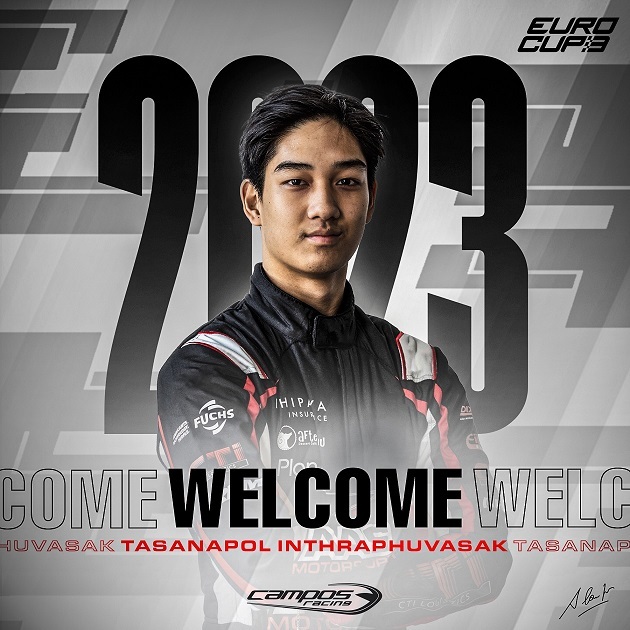 Campos Racing is pleased to announce that Tasanapol Inthraphuvasak will be joining its roster in the all-new Eurocup-3 Championship. Inthraphuvasak will drive one of the Campos Racing-run Tatuus-Alfa Romeo cars throughout the 2023 season.
Inthraphuvasak, aged 17, is a very talented driver from Thailand. He started his racing career in karting in 2013 and rapidly emerged as one of the fastest youngsters in Asia. He finished Vice-Champion in the 2017 Asian Kart Open Championship and also finished second in the IAME Asia Series Junior the following year. When he moved to the European motorsport scene, he also achieved success by finishing third in the DKM German Series in 2019.
When Inthraphuvasak stepped up to single-seater racing, the Thai talent also made an impression. After competing during 2021 and 2022 in various F4-based racing series such as the British, French, UAE or Spanish championships, Inthraphuvasak proved to be an usual podium contender. In fact, he scored three wins and 13 rostrum finishes showing his strong, solid pace in all circumstances. The Eurocup-3 will be another step forward for Inthraphuvasak as the new championship will see him competing on some of the best European and Iberian tracks.
The season will kick off at Spa-Francorchamps on 5-7 May. Seven further rounds will take place at Motorland Aragón (27-28 May), Monza (10-11 June), Zandvoort (15-16 July), Jerez (23-24 September), Estoril (30 September-1 October), Valencia (14-15 October) and Barcelona (11-12 November).
Adrián Campos (Team Principal of Campos Racing): "I would like to extend a warm welcome to Tasanapol (Inthraphuvasak) on behalf of Campos Racing. We are pleased to count on him for this new adventure in the Eurocup-3 series. As a rival, he was a very strong contender last year during the F4 Spain season, so we feel confident we will be able to complete a strong campaign together fighting for top results."
Tasanapol Inthraphuvasak (Driver of Campos Racing in Eurocup-3): "I'm very happy to announce that I will be racing with Campos Racing in Eurocup-3. It will be a challenge to be racing in a new championship but I am very confident to be working with a great team who can help me develop throughout the season. I'd like to say thank you to Campos Racing and all my sponsors for making this possible."
---