Campos Racing is proud to announce that Suleiman Zanfari is joining its driver line-up in the 2023 Eurocup-3 season at the wheel of one of its Tatuus-Alfa Romeo cars alongside Tasanapol Inthraphuvasak and Francesco Braschi. Zanfari, Inthraphuvasak and Braschi is both a young and experienced roster to face up the very first season of the Eurocup-3.
Zanfari was born in El Jadida (Morocco) on July 11 2005. The young ace emerged as a pure racing talent of his country as soon as he made his karting debut at the age of 8. Zanfari competed at the highest international level in countries such as Italy, Germany, Great Britain, France, Spain or Sweden, the later where he won the 2019 national championship in OK Junior. His first taste of single-seater racing came in 2020 joining the field of the Spanish F4 Championship. In the following years, Zanfari continued involved in different F4-based racing series in the UAE, Italy and Spain, in which he constantly proved to be a racing driver with a brilliant future ahead.
An 8-event calendar is scheduled for the inaugural season, including four double-headers in Spain and other four abroad in Belgium, Italy, Netherlands and Portugal. The Belgian rollercoaster of Spa-Francorchamps will kick off the season on 5-7 May. After a second round at Motorland Aragon (27-28 May), the Eurocup-3 will pay visits to Monza (10-11 June) and Zandvoort (15-16 July), which also marks the halfway point before the summer break. The action will resume in Jerez (23-24 September) with round 6 a week later at Estoril. The final two rounds will take place in Cheste (14-15 October) and Barcelona (11-12 November). The standard format will consist of two free practice sessions, two qualifying sessions and two races.
Adrián Campos (Team Principal of Campos Racing): "We are very happy to have Suleiman (Zanfari) joining our roster in the Eurocup-3. He is a well-known driver for us as he has been a member of the Campos Academy for years. Suleiman is a driver of huge talent and we have no doubts he is going to be a strong contender in such a competitive environment. On our side, we will help him as much as possible to achieve success together. In the same way, I would like to thank his manager, Marco Cioci, for the trust they have placed in us to continue his racing career."
Suleiman Zanfari (Driver of Campos Racing in Eurocup-3): "I started my journey in motorsport racing with Campos Academy at the age of 10 in 2015. I still remember my exchanges with Adrian Campos Sr in Alzira. He was a great man who gave me great advice in single seater. It is an honor to race with my family Campos Racing and I am thankful with Adrián (Campos Jr) and Andreu (Romera) for this opportunity. I am back only for the best."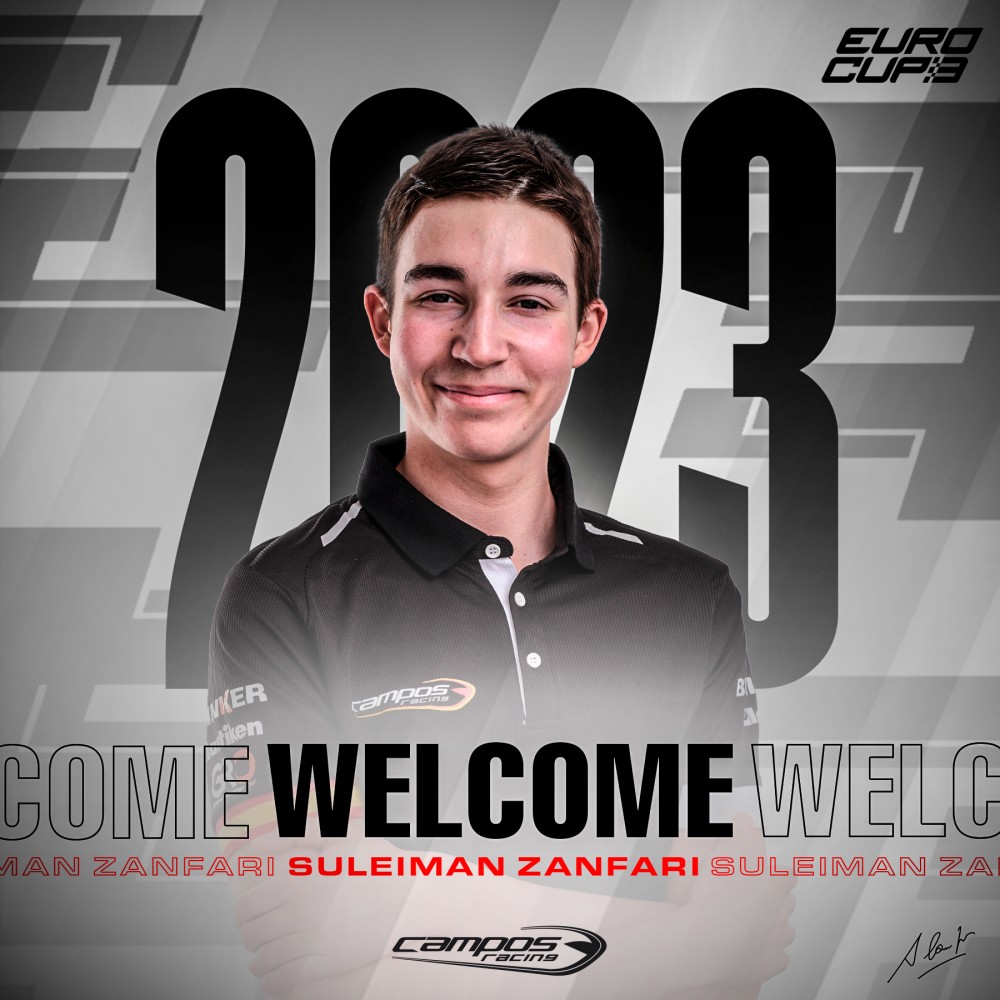 ---