Campos Racing drivers found themselves starting right at the back of the grid due to heavy traffic in qualifying session. The debutant driver line-up managed to put remarkable recovery drives in all three races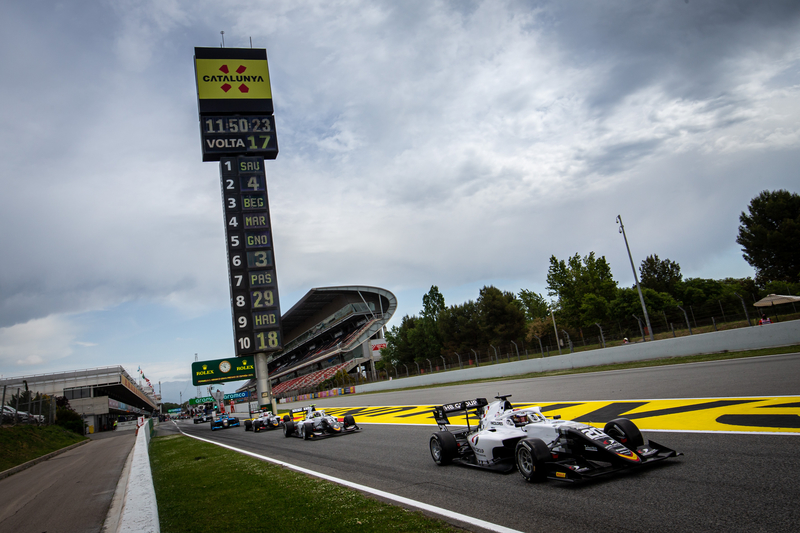 Campos Racing experienced a challenging 2021 FIA Formula 3 Championship season opener at Circuit de Barcelona-Catalunya. László Tóth, Lorenzo Colombo and Amaury Cordeel made a promising debut in the feeder series despite they couldn't make it into the points. They showed potential for the upcoming events with still another collective test session in Jerez next week. An excellent chance to continue improving Campos Racing-run Dallara F3 cars, which already featured good prospects this weekend.
During Friday's free practice session, Belgian Cordeel was the fastest driver in Campos Racing colors posting a lap of 1m34.415s with Italian Colombo close behind with a lap of 1m34.620s. Tóth also lapped in competitive lap times on his first outing of the weekend in Barcelona. Later, in qualifying, Colombo made an impression and the series newcomer set the fourth-fastest lap time on his first set of tires. Unfortunately, neither Colombo nor his teammates Cordeel and Tóth managed to put all three sectors together on their second set of tires and they dropped down the order. With thirty cars on track at the same time, experience also plays a key role in getting in clean air.
Saturday's race 1 saw Colombo getting in a good fight with Tijmen van der Helm with both drivers switching positions several times. Colombo's race pace was strong, with the Italian consistently lapping in 1m37s just like the top-ten drivers. After 21 laps, Colombo took the checkered flag in 23rd place with Cordeel and Tóth three and four positions adrift respectively. Race 2 was marred by a couple of safety car periods, which made even harder to move through the field for Campos Racing drivers, particularly in such a difficult circuit to overtake as Barcelona. At the end, Cordeel crossed the finish line in 17th place. Colombo ended up in 23rd place with Hungarian Tóth right behind.
The curtain raiser event has come to an end today with Race 3. Once again, starting from the back was a huge mountain to climb. Cordeel overtook several cars to finish in 25th place. Tóth took the checkered flag in 26th and Colombo ended up in 29th after being forced to pit. Colombo picked up a rear left tire puncture in the opening laps and the Italian lost any chance to make further improvements.
As mentioned above, Campos Racing drivers will carry out a two-day collective test session in Jerez on 12-13 May. No time to rest!
---