Boschung completed his best weekend ever in the FIA Formula 2 by scoring his first triumph in the series and adding another rostrum to his tally. Maini shines with fourth and seventh finish on his debut in the ultra-competitive international series. Campos Racing sits first in the teams' standings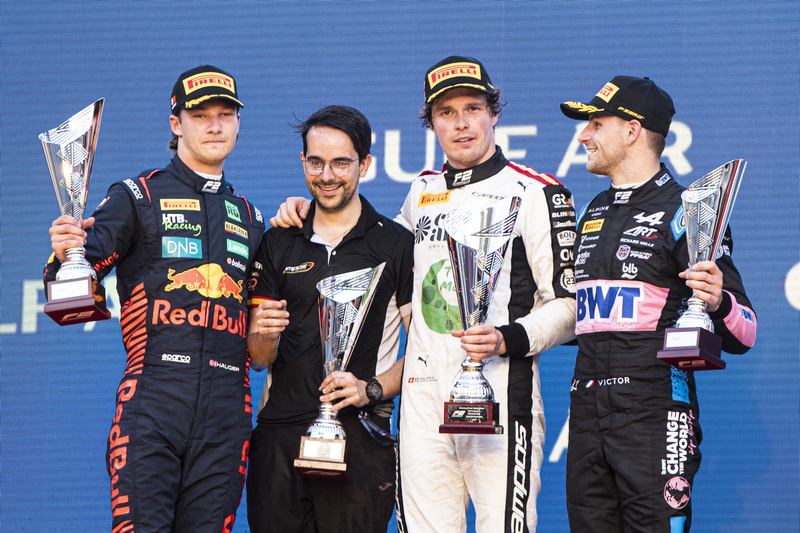 Campos Racing and its drivers could hardly have dreamed about a better start to the season at Bahrain International Circuit, who hosted the first round of the FIA Formula 2 in the frame of the Bahrain F1 Grand Prix. Ralph Boschung had a stellar performance in his Campos Racing-run Dallara F2 and brought home his first win in the series on Saturday. Besides, the brave Swiss driver stepped up onto the second place on Sunday with another sensational display of driving. Indian Kush Maini rounded off the strong overall performance. Maini made it into the points twice and, during the feature race, he was in contention for a podium finish for the entire race.
Boschung and Maini, in both Campos Racing-run Dallara F2 cars, made a promising start to the weekend on Friday as they did put themselves in the top-ten in the single free practice session. Boschung clocked a lap time of 1m45.824s and Maini posted a personal best of 1m46.038s. Later in qualifying, both drivers in Campos Racing colors continued running strong. Indian Maini was impressive on his debut and secured a fantastic top-5 on the starting for Sunday with a lap time of 1m41.927s. Swiss Boschung, despite he couldn't improve on his second set of fresh rubber, still finished in tenth place and it also gave him the pole position for Saturday's reverse grid.
Boschung was in fighting mood for his first win in the series on Saturday. And the Swiss driver was almost unchallenged by anyone else on the starting grid. When the lights went out, the driver of Campos Racing made a perfect start keeping his rivals at bay. Besides, he managed to slightly pull away as the drivers right behind, Ayumu Iwasa, Victor Martins and Théo Pourchaire got in a fight for second. Maini also made a good getaway but he was left with no room at T1 and lost a couple of places.
Boschung immediately mastered the race setting a metronomic pace up the front. On lap 9, he had built a 3-second gap on Iwasa, Martins and Pourchaire, they all unable to keep in his slipstream. Maini had moved up to 8th after passing Roman Stanek and Frederik Vesti at once. After 15 laps, Boschung was still leading the pack with a solid race trim of low 1m49s and his gap had grown up to 5 seconds. With an excellent pace at the end of the race, quicker than anyone else, Boschung took the checkered flag as winner with more than ten seconds on Dennis Hauger, who finally passed Martins for second. Besides, it was a very special maiden win wearing his Adrián Campos inspired helmet. Maini finally took a seventh-place finish as he had overtaken another rival in the dying moments of the Sprint race and scoring points in his first race in the F2 series.
The feature race had to be another hard challenge for the drivers with 32 laps and a mandatory pit stop. When the lights went out, both Campos Racing drivers excelled on the extremely incident-marred first lap. At the end of the opening lap, Maini and Boschung had moved up to second and third respectively. After two laps with the safety car to clear the track, Boschung moved past his teammate Maini as he was on the softer compound. Boschung closed in on race leader Théo Pourchaire but, at the same time, the Swiss driver was trying to save his tires. With Pourchaire and Boschung pulling away, Maini also built a four-second gap on Oliver Bearman. Paradoxically, it wasn't Boschung who firstly made the first stop but Pourchaire, on his set of hard rubber, on lap 12. Among others, Maini also pitted for switching to soft red tires. New leader Boschung finally made his pit stop a couple of laps later. When the pit window closed, Boschung was still second behind Pourchaire and Maini moved up to third after overtaking Arthur Leclerc. From then onwards, it was a battle against tire degradation and wear. Boschung took the checkered flag in second place and Maini ran in third until two laps to go. Struggling with his tires, Maini couldn't keep Zane Maloney at bay but still finish in fourth place.
After the first round, Boschung is second in the standings on 28 points. Maini lies in fourth on 14 points. Campos Racing currently leads the teams' standings on 42 points.
The second round of the FIA Formula 2 season is scheduled at Jeddah Corniche Circuit in two weeks' time.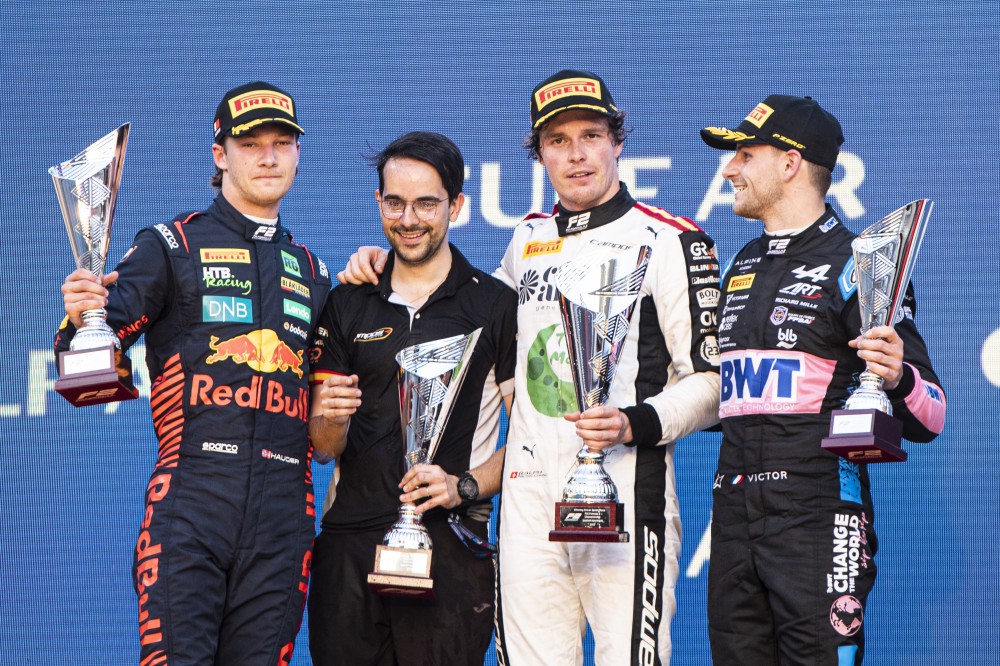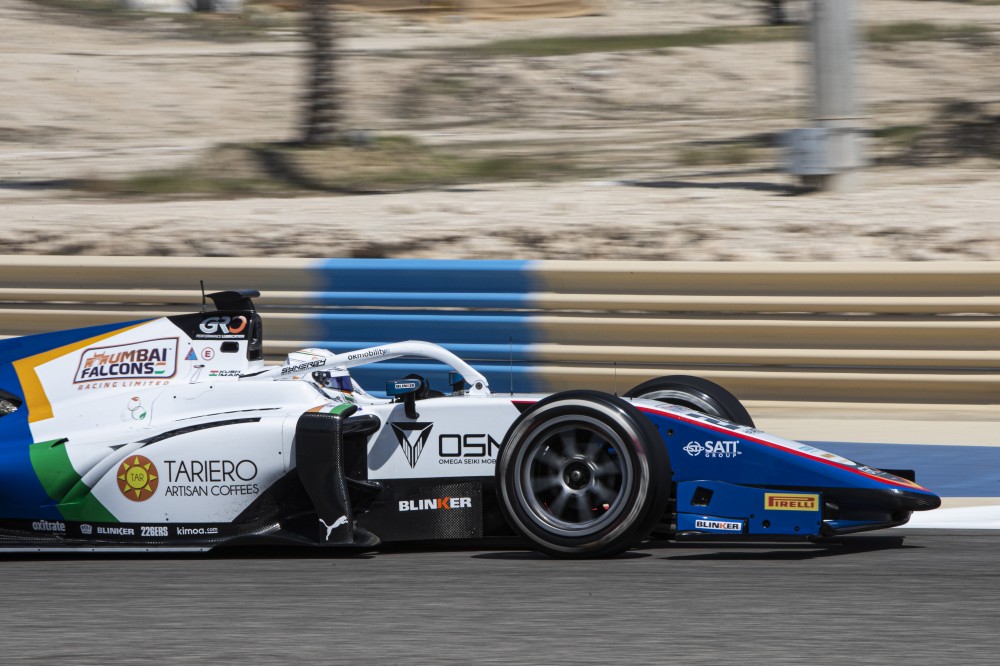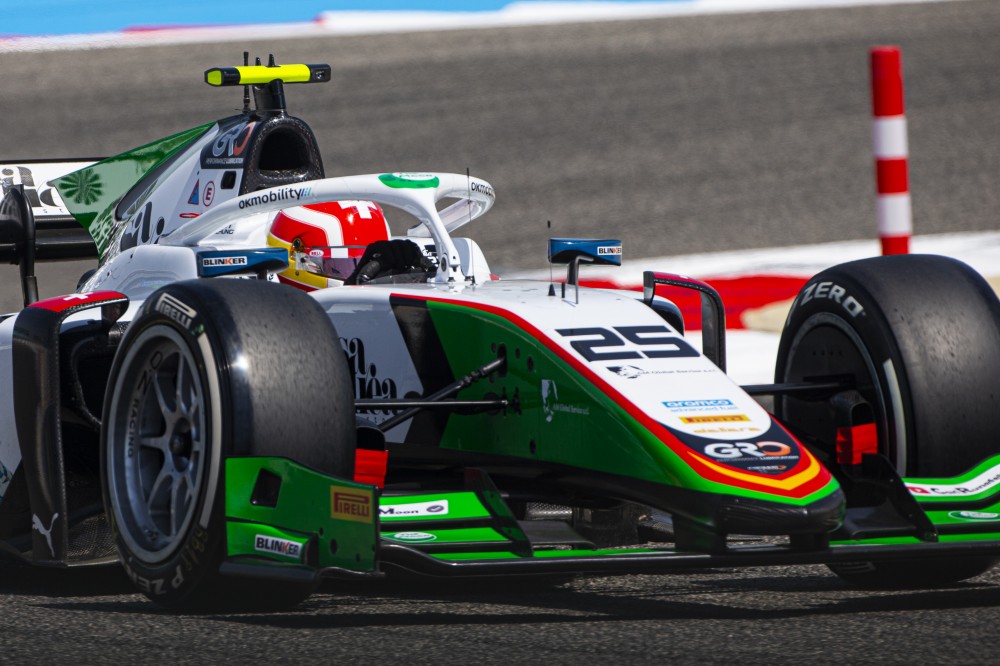 ---