The Danish-German driver finished fourth on Sunday with Vidales achieving a double place points-scoring finish in the Ardennes. Martí's recovery drives dashed by racing incidents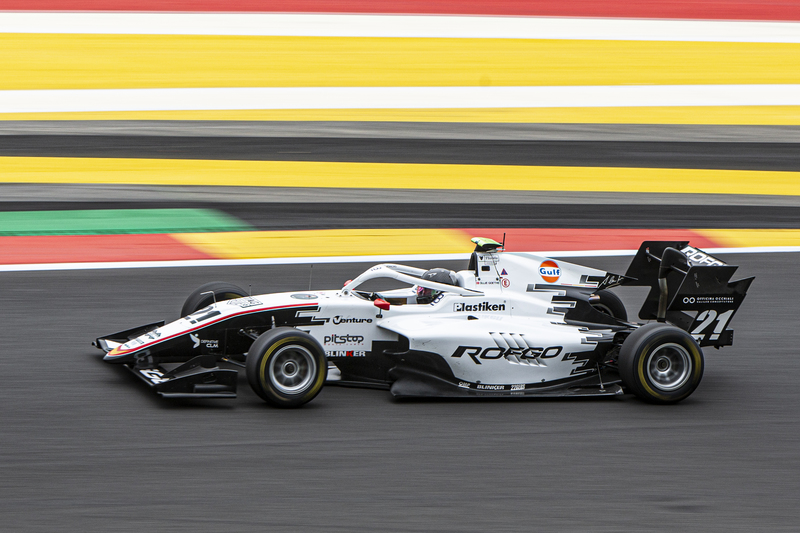 Campos Racing completed an extremely positive weekend at Spa-Francorchamps, which hosted the seventh round of the 2022 FIA Formula 3 Championship season. The antepenultimate event of the campaign saw an excellent overall performance delivered by Campos Racing and its drivers. Oliver Goethe and David Vidales made it into the points-paying positions with the Danish-German driver crossing the finish line in fourth place on Sunday following a massive accident during Saturday's sprint race. With Campos Racing mechanics working on Goethe's car all night long, the young ace put himself in podium contention in his Dallara F3 car. Spaniard Vidales performed pretty well with two remarkable recovery drives. Unfortunately, his fellow countryman Pepe Martí failed to follow his footsteps due to technical issues in race 1 and a clash in race 2.
On Friday, the drivers got their first taste of Spa-Francorchamps during the single free practice session in the morning. It was an extremely positive start to the weekend with all the Campos Racing drivers making it into the top-four. Goethe posted a lap time of 2m06.188s and his teammates setting pretty similar times of 2m06.195s (Vidales) and 2m06.295s (Martí). But everything got even more complicated later in qualifying due to changeable weather conditions. Everybody started the session on wet tires but, as rain stopped, it was mandatory a switch to slick tires in the final ten minutes. So, lap times massively improved and to put the three sectors together in a clean lap proved to be harder than ever. Goethe managed to do it with a lap of 2m12.121s in his final flying lap and set to start from fourth on Sunday's starting grid. Unfortunately, both Martí and Vidales couldn't lower their lap times of 2m12.726s and 2m12.955s due to a yellow flag in the first sector and were forced to start from row nine in both races.
On Saturday, Goethe made an impression with his first lap during the sprint race. From 9th on the reverse starting grid, he had moved up to fourth avoiding any contact in a troublesome opening lap. In fact, the safety car was deployed as Christian Mansell crashed into the wall. At the restart on lap 5, Goethe remained in close fight with Roman Stanek and Zane Maloney. The latter made an attempt to overtake Goethe at Blanchimont and both cars crashed hard into the barriers. Despite both drivers escaped unharmed – Goethe paid a visit to the Medical Center for checking but sustained minimum bruises-, the sprint race was red-flagged while barriers were repaired. After 30 minutes, the race resumed on lap 10. Vidales kept pushing with 5 laps to go and took seventh place after passing William Alatalo at the end to secure more points to his tally. Unfortunately, Martí was forced to retire with few laps to go following a mechanical issue.
On Sunday, Goethe's start was another eye-catcher. The Danish-German driver overtook Francesco Pizzi on lap 1 and shortly after the moved into the lead by passing Caio Collet and Maloney at Kemmel and Les Combes. Further adrift, Vidales and Martí were gaining places in the middle of the pack running 11th and 14th respectively. After a four-lap safety car period, as Kush Maini and Victor Martins had collided each other at Bus Stop, Goethe headed into the Euau Rouge-Raidillion section leading the field but Maloney and Collet used his slipstream to overtake him on the Kemmel straight. Stanek also moved past Goethe, who dropped to fourth. Vidales had already moved into the top ten after overtaking Brad Benavides and Marti – who was already experiencing DRS issues to make it working from the very beginning– made contact with Gregory Saucy and his car sustained some suspension damage and lost performance as a result. From then onwards, Campos Racing kept pushing and finally Goethe took the checkered flag in fourth place and Vidales' late charge rewarded him with an eighth place as he had swept past Alatalo and Alexander Smolyar. Martí finished in 22nd place.
The penultimate round of the season will take place at Zandvoort next weekend.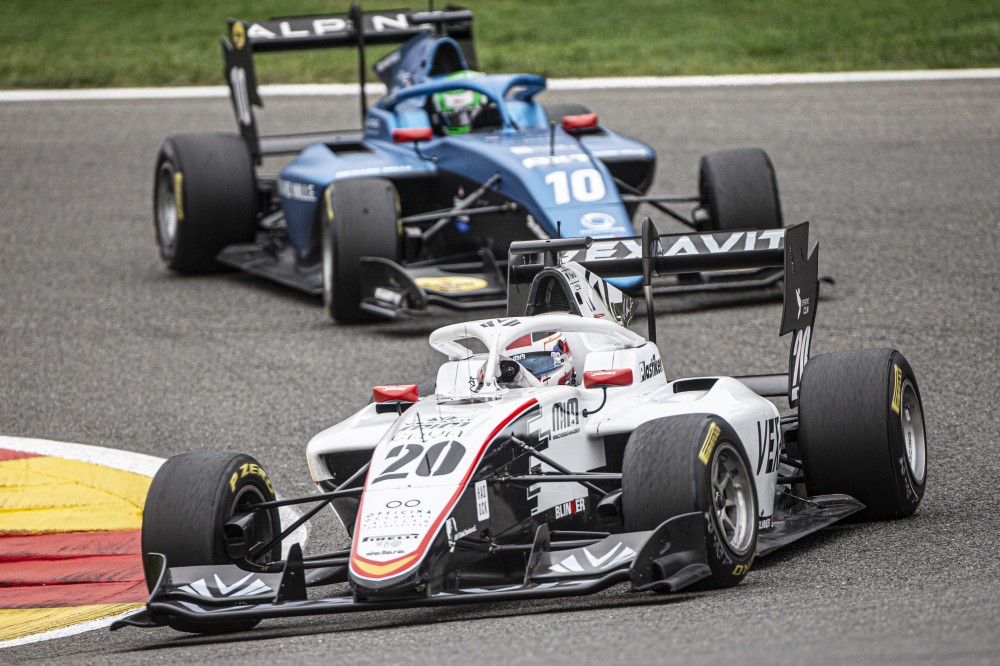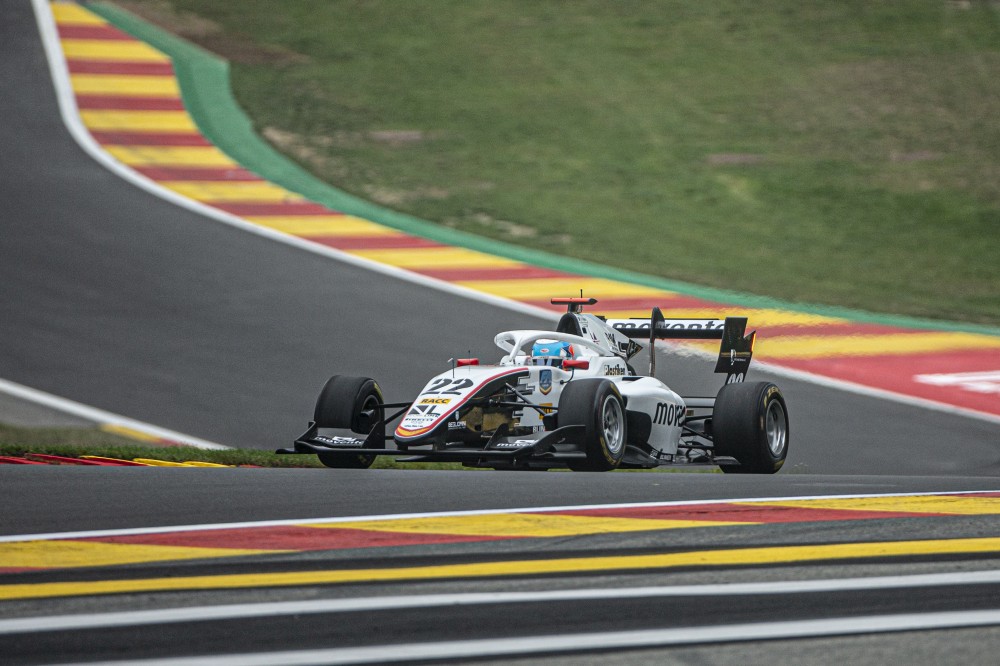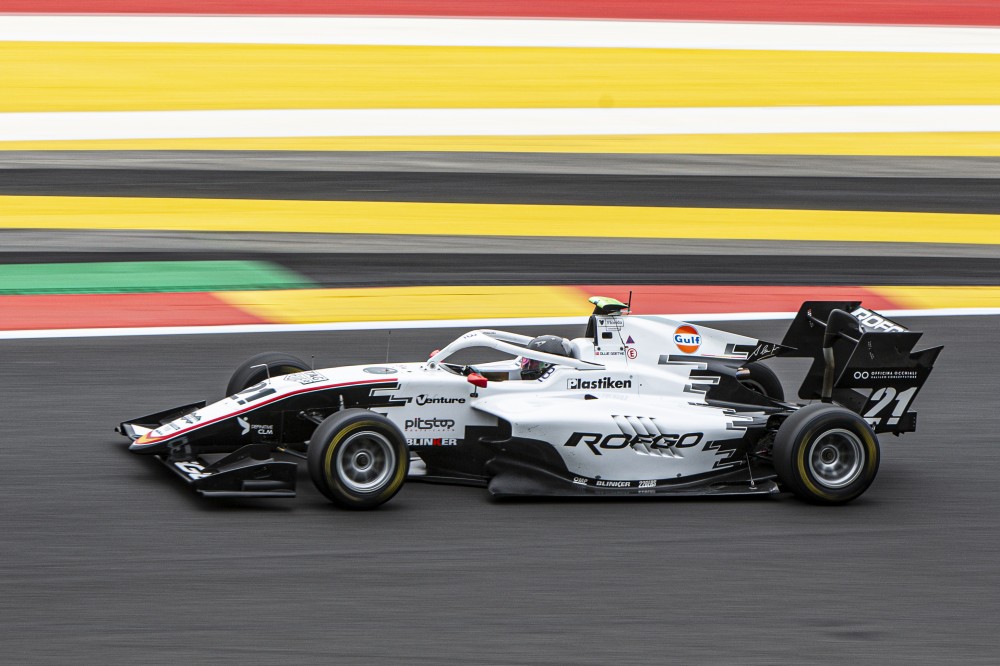 ---